Wall Framed Art
interior wall decoration Wall Framed Art
interior wall decoration Wall Framed Art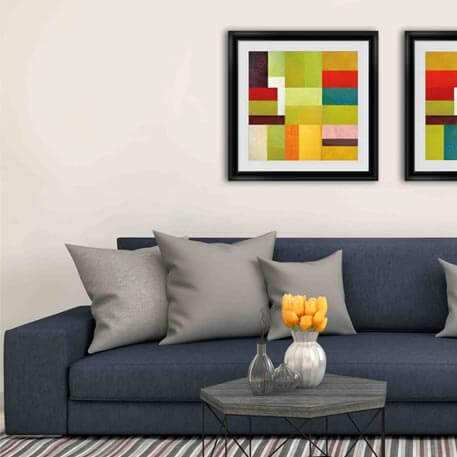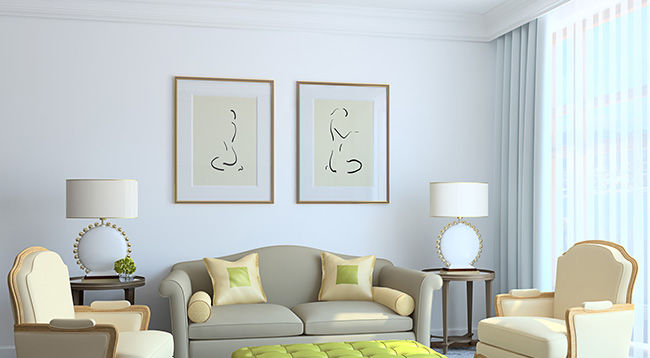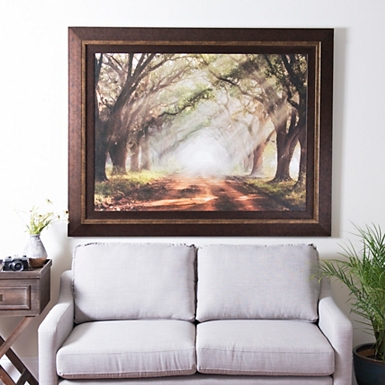 Please login to your account to save this product for later.
Help IconA dark-gray phone icon.Help User iconA white icon of a site user.Log in / Signup
Searching for something special to spruce up an empty wall? Go artful with this two-piece framed print set! Matching, but not identical, each showcases an abstract acrylic painting in neutral hues of blue and beige. Made in North America, these pieces are printed on paper and highlighted by matting and polystyrene frames finished in sleek silver. Measuring 17.5″ square each, these decorative designs are perfect placed in a pair or split up to double the decor around your abode.
This art set of 2 has a protective glass cover and mounted within a 1.75″ wide contemporary frame.
Overall: 14" H x 28" W x 1" DOverall Product Weight: 5lb.
Beige Black Blue Bronze Brown Cream Multi Orange Purple Gold Metallic Green Yellow White Red Pink Grey Duck Egg
Overall: 23.5" H x 23" W x 0.75" DOverall Product Weight: 5lb.
70% Off Canvas 40% Off Wood Mount 15% Off Photographic Prints
Bring some floral fancy to your walls with this must-have two-piece graphic art print set. The perfect finishing touch for traditional ensembles, this set will effortlessly elevate your ensemble with classic flair. These two prints showcase large red poppy flowers with black brushstroke stems set against a gray background with a subtle botanical motif. Made in North America, each artwork is printed on a canvas and finished in a silver frame. Try hanging these prints above your living room…
Subject: AnimalsProduct Type: PrintPrint Type: Graphic Art PrintFrame Type (Format: Black Framed): Picture FrameFrame Type (Format: White Framed): Picture Frame
Shop By Wall Art View All Lit Shapes Framed Wall Art Hand Painted Abstract Floral Animals & Birds Typography Cityscape Figurative Landscape Photographic Art Metal Art Wooden Shop By Accessories View All Collections
Overall: 13.5" H x 27" W x 1" DOverall Product Weight: 4lb.
Sort By: price, high -> low Price, low -> high Newest -> Oldest Bestsellers Our Favourites Go
Your browser's Javascript functionality is turned off. Please turn it on so that you can experience the full capabilities of this site.
Overall: 17.5" H x 35" W x 1" DOverall Product Weight: 9lb.
Shop top categories Best Sellers Botanical Abstract Scenic Decorative Art Animals
Subjects Artists Framed Art Canvas Rooms Décor Best Sellers All Art Photos to art For Business Sale
Abstract Animal Beach Cities Figurative Floral Geometric Landscape Still Life Typography LEAVES
Bring some floral fancy to your walls with this sleek two-piece print set. A contemporary update on classic style, each piece showcases a matching floral motif with a slightly different pattern. The flowers are painted with large brushstrokes in neutral tones against a soft white background. For an extra touch of flair, these painting prints are set in a stainless-steel frame with a protective glass cover, and they arrive ready to hang.
Outdoor allure blends with brightness to make this print a stunner for any space. Showcasing colorful birds perched atop a tree stretching to the sky, it offers splashes of red, green and blue to really make it pop. Bursting with gallery-worthy grace, this design is made in the USA and features a 100% cotton print wrapped around a pinewood bar frame. Simply set it above a gently weathered wood console table for a look of classic charm in the entryway, then add on a row of lush potted plants to…
Famous impressionist piece showcases winding almond tree branches covered in blossoming flowers. It is printed on gallery-wrapped canvas with solid wood stretchers and it arrives ready to hang.