Large Vinyl Wall Art Decal Sticker Floral Ornaments Flower Tree
interior wall decoration Large Vinyl Wall Art Decal Sticker Floral Ornaments Flower Tree
interior wall decoration Large Vinyl Wall Art Decal Sticker Floral Ornaments Flower Tree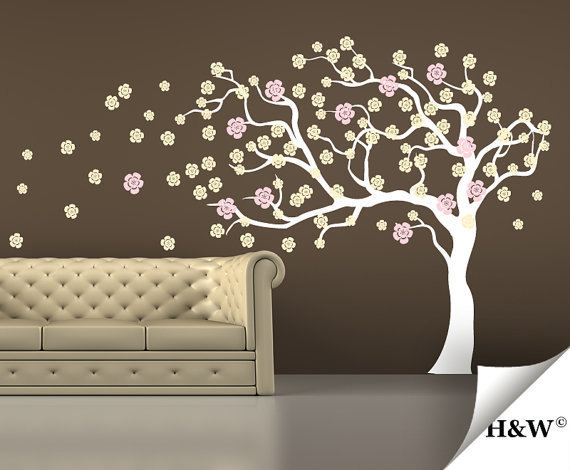 Large Wall Tree Decal Forest Decor Vinyl Sticker Highly Detailed Removable Nursery #1131
In the end it is absolutely beautiful and just as I had imagined that it would look on the wall but…I think that a video of your company putting one of the large decals up would be a great idea. I watched several others online and got bits and pieces of how to do it successfully. The instructions were good but the one thing that I had a problem with was the fact that the decal came out of the box with the decal stuck partly to the decal paper and partly to the heavy paper. I went completely over the decal with both papers in tact and burnished the back of the paper with a credit card to release it to the transfer paper or at least most of it. I had to constantly interact with both papers to make sure that it was on the decal released side…the room was in the 60's and I let it sit flat out on the floor so that it would not curl up so if I did something wrong, please let me know as I would like to order more of these designs because when it was finally finished it was and is simply beautiful. Many thanks.
— Please Choose an Option — White Golden Yellow Signal Yellow Yellow Light Yellow Brimstone Yellow Dark Red Dahlia Red Red Light Red Orange Persimmon Maize Light Orange Purple Violet Lavender Lilac Pink Lip Stick Bubble Gum Carnation Pink Soft Pink Dark Blue King Blue Cobalt Blue Brilliant Blue Blue Geyser Blue Traffic Blue Powder Blue Gentian Sky Blue Light Blue Ice Blue Torquoise Blue Teal Turquoise Mint Dark Green Forest Green Olive Green Grass Green Celadon Light Green Yellow Green Key Lime Pie Lime-Tree Green Brown Nut Brown Light Brown Beige Black Dark Grey Grey Middle Grey Light Grey Silver Metallic Gold Metallic Copper Mettalic
1 2 3 4 5 6 7 8 9 10 11 12 13 14 15 16 17 18 19 20 21 22 23 24 25 26 27 28 29 30
Large Wall Tree Nursery Decal Japanese Magnolia Cherry Blossom Flowers Branch #1121
Turned out perfect but took a little more time than I thought…
I love my tree decal. I placed it my living room everyone is so impressed this decal made me a designer!! Product was delivered quickly, thank you.
We promise to never spam you, and just use your email address to identify you as a valid customer.
Vinyl decal can be applied practically anywhere, on smooth or semi smooth, non-porous clean surface like wall, door, mirror, tile, stainless steel, glass, plastic, vehicle etc.  Will last for many years outdoors and indefinetly indoors.
Decal comes with a full easy installation instructions. Some Decals may come in multiple peices due to size
84″ (7 feet) wide x 56″ tall 72″ (6 feet) wide x 47″ tall 60″ (5 feet) wide x 40″ tall
Large Vinyl Wall Art Decal Sticker Floral Ornaments Flower Tree Blossom #1143
Trees Birch Trees Palm Trees Custom Decals Canvas Art Nursery & Kid's Room Quotes Chalkboard Decals Bathroom Decals Floral & Grasses Animals STENCILS Other Peel and Stick Decals
Innovative Stencils can design and manufacture a stencil or a vinyl decal with any design, any size and fora any application. Please contact us for more information on creating a custom stencil for your project needs.
Click the button below to add the Large Vinyl Wall Art Decal Sticker Floral Ornaments Flower Tree Blossom #1143 to your wish list.
How do you rate this product?   5 stars (best) 4 stars 3 stars (average) 2 stars 1 star (worst) Write a headline for your review here: Write your review here: Your email:
Love, love, love these decals! I purchased two of the most popular styles in the largest sizes. I was able to put them up by myself, easily, just taking my time. They look FANTASTIC, shipped fast and of course they're crazy affordable. Highly recommend!