Diy Woven Wall Hanging Better Homes And Gardens Wall Art
interior wall decoration Diy Woven Wall Hanging Better Homes And Gardens Wall Art
interior wall decoration Diy Woven Wall Hanging Better Homes And Gardens Wall Art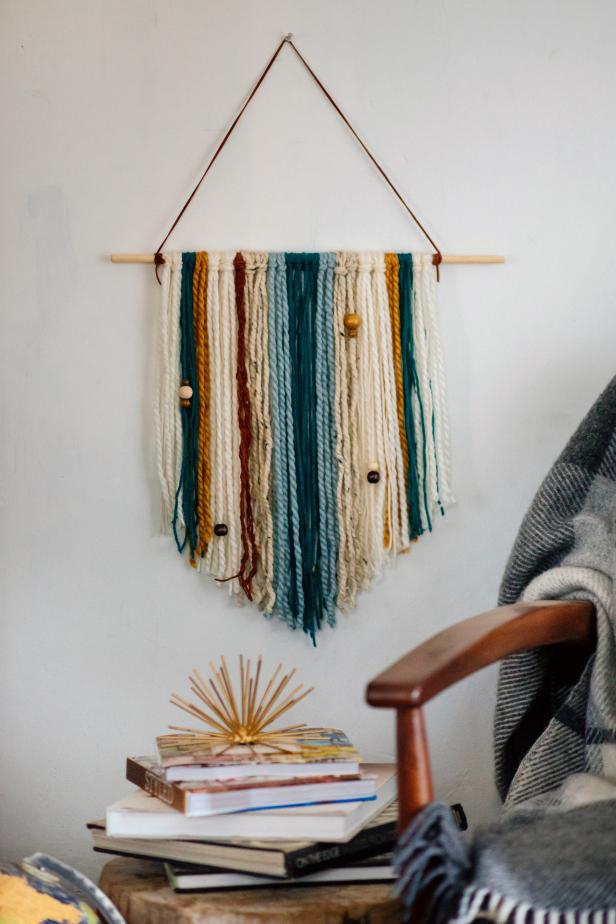 Change to a different medium-weight yarn color. Weave across one row, left to right, and return. As the third row is woven, stop short of the last warp thread and weave back. Continue this process to create the decrease that forms a diagonal design in the weaving, from left to right.
LOCAL Downloads Maker Toolkit Weddings Homes Before + After Design To Impact Collaborators + friends How To Food + entertaining Behind the Scenes Inspiration
Step 1. Decide on the width that you want your wall hanging, and cut your dowel down if necessary.
Inspiration Project Sheets How to make a macrame wall hanging How to make a macrame wall hanging
Colorful, chic, and totally customizable—what more could you want? This woven wall hanging is guaranteed to make a textural statement in your entryway, living room, or bedroom. And the best part is that you can make one yourself.
By submitting your details, you agree to our Privacy Statement.
Step 5. To hang, mark the wall on each side of your dowel with a pencil, and hang the wall hanging by resting the dowel over the nails.
Austin Baltimore Charleston Dallas Detroit Kansas City LOS ANGELES Miami Milwaukee Minneapolis Nashville New Orleans New York Oklahoma City Palm Springs Portland Reno San Francisco Savannah Washington DC
Thread a yarn needle with the other end of the yarn. Pull the dowel down toward the bottom until a row of warp lifts to create the shed. Slide the needle through to the other side, loosely pulling the yarn through. Use a fork to push the row close to the bottom.
Warm up your walls with a textured wall hanging that can be easily customized.
Repeat plain weaving for 2 inches with medium-weight yarn in your original color. Then, to create the smallest Rya area, wrap bulky or super-bulky yarn around just your hand about 40 times to make short lengths. Cut at the top and lay aside. Repeat steps for attaching Rya knots to create three rows. Then repeat plain weaving for two rows with medium-weight yarn.
PinterestThe Cutest Cactus DIYs You've Ever SeenPinterest9 Better-Than-Bought Storage BasketsPinterestMad for MacramePinterestFresh Ways to Decorate with FlowersPinterestHow to Make a Pretty Faux AmethystPinterestHow To Make a Pretty Faux GeodePinterestDisplay Your Favorite Pictures in This DIY Wire Photo HolderPinterest6 Easy DIY Calendars for Stylish SchedulingPinterestDIY Veneer Project PatternsPinterestFree Stencil from DIY Magazine
Remove your completed wall hanging from the loom, starting at the bottom. Remove cardboard and cut off knots tying yarn to loom. Carefully remove each warp loop from each nail. Moving right to left, knot the strings across the bottom, tying closely to the weave. Repeat at the top. On the back, use a yarn needle to weave loose ends into the wall hanging. To do so, weave loose ends through the project a few times and clip tails. Thread a dowel through the loops and tie yarn or a ribbon around the dowel to hang.
Start weaving with four arm-lengths of medium-weight thread. Weave the tail end in and out for five to six rows, starting on the bottom left side. Leave a short tail on the backside of the weaving.
Step 2. Hang your dowel on a wall, or between two chairs — which will make it easier to work on.
Make a basic hand loom out of a wood frame or canvas stretcher and nails. Install the warp, which is the vertical yarn you weave through, by stringing thin yarn vertically around the nails. Once finished, insert a piece of cardboard and a dowel to create a shed, or the space between yarns that you will thread through. Now you are ready to start weaving. 
Push the shed back up and weave over next warp, right to left, until you reach the other side. Slowly pull all the yarn through. Use the fork to evenly press toward first woven row. Repeat until you've completed 12 rows. Clip yarn, leaving a 1 to 2-inch tail on the back of the weaving.
Step 3. Cut a piece of yarn double the length of the height you want each piece. Tie the piece using a larks head knot, which means you fold your piece in half over the dowel, and then bring both ends through the fold. The same way you'd put a luggage tag on your suitcase. Tighten and repeat until you've covered your whole dowel.
To make the Rya—a type of knot used to make fringe in woven textiles—wrap super bulky or bulky yarn from your hand to your elbow about 40 times. Cut in half at your hand and lay aside. To add Rya fringe knots to your woven art, take one strand of the cut yarn and fold in half. Use the folded area to wrap from front to back over the first two warp threads. Bring tail ends through to the front by splitting the two warp threads. Pull tightly, and use a fork to push down toward the 12 woven rows. Repeat fringe knots for two rows.
Wall hangings? Très chic. Learning to weave one yourself? Très complicated. When DIY maven Molly Madfis started decorating her bedroom, she knew she wanted to incorporate a lightweight wall hanging above the bed for some added texture. The only problem? Weaving was not in her wheelhouse. Not to be dissuaded by this minor detail, Molly came up with this ingeniously simple take on textile art that uses only a dowel, some yarn, and a pair of scissors. Find out how to make one of your own below!
Molly writes the blog Almost Makes Perfect, which is all about simple, modern and functional DIYs that anyone can do, no matter their skills. Her work has been featured on Better Homes and Garden, The Huffington Post, Domino Magazine and more. She lives in Los Angeles where she instagrams her cats and her house on the regular.
Forget about Nanna's fiddly little plant hangers – we're talking big and bold, tactile and beautiful.
Step 4. Carefully trim the ends in the pattern you want, go long at first in case. Don't worry about making your ends too uniform, they'll end up looking like a hedge if you do.
Repeat in reverse, adding one warp each each row, with a new color. This will create an increase to fill the diagonal space left. Once the diagonal space has been filled, finish by adding a few plain weave rows in your original medium-weight yarn color. Stop weaving a few inches from the top of loom, using your fork to keep the final rows tight. Trim fringe to desired length and shape.
Thought macramé disappeared with flares and lava lamps? Well, think again! Right now macramé is hot in homewares and decorating, and it's easy to get the look without getting your stomach in knots over the price tag.
You'll start by building a loom, then weaving different colors and weights of yarn. We chose a neutral palette with blue accents for our wall hanging, but feel free to use any desired color scheme. Cut the fringe to the shape you want, and experiment with different patterns for a look you'll love. Hang with a simple dowel cut to size or look for a fun metallic rod to hang your woven wall hanging with a hint of glamour. 
For a second section of Rya, wrap medium-weight yarn in a different color 180 times around your hand to elbow; cut at your hand and lay aside. Using three strands of medium-weight yarn, start a row of Rya, moving right to left from the first two warp threads. Continue until row is complete. Repeat Rya fringe knots, with three strands of medium-weight yarn, until three rows are complete.
LoomAssorted yarns in medium, bulky, and super bulky weightsYarn needleCardboard or heavy weighted paper12 x 1/4-inch dowelMiter sawForkScissors